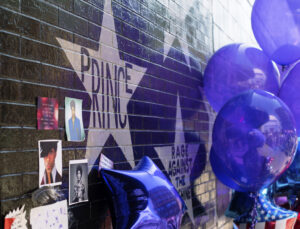 Prince fans have spent the last several weeks mourning the death of this cultural icon.  I have continued to enjoy Prince's music as an adult, but he is embedded in the soundtrack of my youth. When I learned of his death, I thought about my best friend Erika and how we would spend hours talking about music.  Purple Rain came out when we were in seventh grade.  I can't remember with whom I saw the movie, but I do remember watching the American Music Awards and the Grammys with Erika via the telephone.  The next day at school, if you had not watched the awards show, you simply did not have much to add to the conversation because that was the main topic of discussion.  I distinctly remember that while we were excited about Prince's performances, we were profoundly disappointed with his acceptance speeches.  We wanted to hear more from him.  Instead for most of the awards that year, all we got, "Thank you very much."  
Prince had a mystique about him. He did do a few interviews over the years.  Some of them looked like a struggle for the interviewer.  One of the things I've appreciated learning since his death was how much he shared his platform and resources with others.  I've learned about his anonymous philanthropy, how he supported friends who were pursuing their own goals and how he shared his stage with other artists and entertainers.  For Harriet, the online community celebrating Black womanhood, posted two articles that left an impression on me.  One tells the story of writer, Erica Kennedy, and how she landed her job at In Style magazine because Prince requested a black woman to interview him (Read article here).
. The magazine had none and so they hired her. In the other, it tells American Ballet Theatre dancer Misty Copeland's experience, before we all knew her name, of how Prince saw her, knew talent, and invited her on his tour (Read article here).
These big, yet quiet acts have left a major impression on me. In addition to his music, Prince's legacy should teach us how to speak life and support others.  There are two lessons we all can learn:
Be secure in your gifts and talents

.   I am sure that Prince struggled with some insecurity at some time in his life about something.  We all do.  But, when it came to artistry, he had to know he was among the best.   Most of us will not have gifts and talents that will bring us notoriety, but we are all gifted! God made each of us unique and special and we all have something to offer our families, the communities in which we work and live and perhaps even a larger audience.  If you are a Christian, you have been endowed with a spiritual gift.  See I Corinthians 12, Romans 12: 3-8 and I Peter 4:10. Whether its our gifts, talents, or spiritual gifts, they are God-given and no one can take them away—even others who share the same gifts.
Share your platform with others

. If we are secure in the abilities, talents, and spiritual gifts God gives us, it should be easy for us to share our platform or space to encourage others to reach their best or to simply share their gifts, too.  It is so easy for us to become territorial about our gifts when we know we are good at something.  Just because we are the longest serving chairperson, the educator of the year for the umpteenth time, or the one who does it best in the entire organization, we can make room for others.  I can think of two people who I have witness do this well.  
Ron is a friend and professional colleague in academia.  He has a research and publication record most academicians will only achieve a fraction, but since I met him when I was in graduate school he has always been willing to generously share advice on navigating graduate school, job interviews, the tenure process and publication opportunities.  In fact, my first publication was a book chapter in a book he edited.  
Lisa is the former leader of our church's dance ministry.  By far, as a trained dancer, she is the best dancer and choreographer among the rest of us whose only qualification to be in the dance ministry is a desire to worship God through movement.  Yet, she empowered us to choreograph movement, made everyone dance a solo, and always seemed to place herself in the least conspicuous spot.  
Most of us won't have a platform as large as Prince, but we still can share space with others.   His life and legacy show us that God's stage is big enough to accommodate more than one talent and gift.  Just because we help someone else shine doesn't diminish us our light.