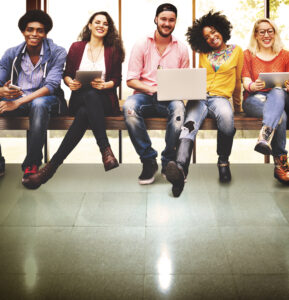 A couple of years ago I started posting Facebook status updates called <insert blank stare> when I would share absolutely ludicrous statements colleges students I teach make and my fantasy reaction to those statements, which was to simply give them a blank stare.  These statements usually come at the end of the semester when those who were not performing as well as they'd like suddenly realized it and come to me to start trying to negotiate a better grade.  Fellow professors and teachers usually bemoan their own experiences.  Some even tag me with their own <insert blank stare> moments.  People not in academia often comment on how funny they find these posts.  Sometimes all you can do is laugh because the requests are so outrageous.
But, this week, I stopped laughing.  I actually was rather agitated by an exchange with a student.  Eve is a graduating senior and is well on her way to earning a D.  Eve admitted that she has no book. She has missed several assignments. She has just enough absences where I could officially drop her from the course.  And, more often than not she is late to class. Despite this, Eve told me it was my responsibility to make sure she passes the course because "no one comes to college to fail."  So, I asked, "With two weeks left in semester what is it you want me to do?"
She said, "Re-open the online quizzes so that I can take the ones I missed."  She made this request even though the course is padded with six extra quizzes so students do have a little room if they forget to do an online quiz or don't do well on other assignments.  I think that is pretty generous.
This isn't the first time I've heard a request like this. At the end of the semester when some students are panicked, they will ask for anything.  The thing that greatly annoyed me was not the request, but the audacious entitlement with which Eve asked.  Eve truly believed she had a right to ask, and was convinced I was not living up to my responsibility as a professor by not fulfilling this request.  All this while she never acknowledged any failures in her responsibilities as a student.
A friend of mine asked, "Do you think our professors thought this about us 20 years ago?" I pondered that question because I really do try to put myself in students' shoes.  Though I did have a habit of procrastinating I honestly cannot think of a time I simply did not turn in an assignment—even it if wasn't my best work.  If the grade reflected that, I was not going to argue with or blame the professor because I already knew where I fell short.
My junior year of college I was a section editor for the Howard University student newspaper The Hilltop.  I skipped a few of my journalism classes assuming my professors would give me a pass since I was, after all, doing real journalism.  They didn't. I have the GPA to prove it.  That semester, when I realized I was going to fall below the required GPA to keep my scholarship, like my students, in desperation I started making rounds to my professors.   I went to Professor William Worthy, a visiting professor and noted journalist, who taught a special topics honors course I was "forced" to take.  I had a B in his class.  I really needed an A.  He said, "The entire semester you looked unengaged and uninterested."  I was embarrassed.  He was right.  I resented being required to take the one-day a week, three-hour class just because I was in the honors program and my attitude showed it.  I left his office hoping and praying he would have mercy.    Instead, he gave me the grade I earned, a B. The life lesson for me was no one cared if I resented taking the class or not. Further, my nasty attitude didn't help my case when I came up short.
We talk about the great sense of entitlement of the millennial generation.  And, yes many of them do exhibit this.  But, I am wondering do we live in an American culture that breeds entitlement? Did the millennial generation learn it from us? Eve is somebody's child, and I suspect her parents are near my age or a slightly older.  I am raising two Generation Ys of my own.  I am often horrified to think they could be behaving like some of my students.  First, we must ask ourselves are we Eve? How do we act when we don't get our way? Can we see, admit, and apologize for when we miss a deadline, forget to turn in some paperwork, or don't do something we said we would?
After we examine ourselves, if we are still raising children, we must consider if we enable bad behavior.  Do we follow through with consequences for bad behavior even when it is inconvenient for us? Taking away a car, phone, electronics, or toys often impacts us.  Though we should give our kids all the opportunities we can, telling them "no" ever so often is really not a bad thing.  Just because we can afford to give our children something doesn't mean we have to, or that we should not make them contribute in some way.
I want my daughters to become responsible women who can acknowledge when they have not been, have humility when they are asking for grace and accept the consequences of their behavior without blaming someone else.  That cannot happen if they never see me model this behavior; if there is no follow through of consequences, or if I indulge their every desire.  Generation Y got their entitlement from somewhere.  Maybe we need to look in the mirror.