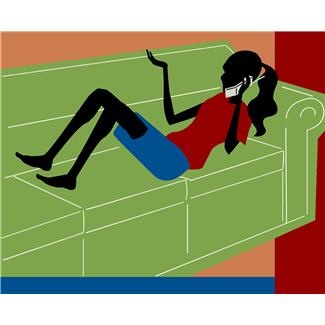 This year my 11 year-old daughter started middle school. I have always been intentional about spending time with each of my daughters by themselves, but most times we are together. This year since Nia is at a different school than her younger sister and she rides with me on my way to work, I thought the 25 minute ride in the car together would be a great opportunity for us to have one-on-one conversations. I have nearly an hour commute in the mornings. I usually use that time to talk family and friends also commuting (on my Bluetooth, of course). But, since I had the expectation that Nia and I would be talking, I have told my regulars, "Can't talk to you now. I will call you back after I drop Nia off." I wanted to be availabe to talk and didn't want to miss the opportunity to converse with my first born.
I imagined we would talk about how she is adjusting in her new school, the growing pains of tweendom, her interaction with her sister, girl issues,and anything that would contribute to her developing into the young woman God would want her to be. My hopes were high. Instead, I usually get silence.
So, in one of my "bright" parenting ideas I decided that we would pick a topic of the day to discuss. That, for sure, would get the conversation going. So, it went something like this:
Me, "Let's talk. You can pick any topic."
Dryly, she responded, "What do you want to talk about?"
"Anything. How about underwear?" I was half joking.
Blank stare.
"Good foundations are important."
"Can we just ride in silence?"
In circumstance there are people who understand the best way to create the top documents on the web, it really is them! Our free tricks may enable you to cope with all sorts of documents. While operating on terrorism documents you have to not forget that the writing function should be depending on the details and justifications which will support the principal idea of your own composition.
Composing a terrorism essay may be considered a pretty catchy task for these students best paper writing service. If you're students, you definitely must compose article on each subject you have got at university or school. Through education we can alter the world. The job of being the crime reducer the Christian instruction symbolizes the valid need of stated teaching within the culture.
Ok, so that didn't go so well. The next day, she brought earphones and plugged them into her phone. I wasn't too offended because the following day she was Chatty Cathy. That is the interesting dynamic of having a tween. I am not sure what I am going to get on any given day. I could get the baby 11 year-old who whines and overractes; the thoughtful and critical thinker 11 year-old who I have to remind myself is really only 11; the silent 11 year-old who would rather be plugged into to some electronic, or the chatty 11 year-old who talks non-stop.
Most mornings I listen to NPR. To my surprise, she actually listens, too. Sometimes she will make a comment or ask a question about a story. Nothing too deep, but conversation nonetheless. My topic of the day approach didn't go well. But, I still choose not to talk to others while she is in the car with me. When the day comes, I want to be ready and available for the conversation that she will initiate. For now, I am cool with riding in silence.